Sucker M.C.'s
Russell Simmons' younger brother, Joey "DJ Run" Simmons, toured with Kurtis Blow as Blow's DJ before Kurtis made records; and young Run was billed as "The Son of Kurtis Blow." DJ Run was also an aspiring MC, who soon partnered with his childhood friend Darryl "D.M.C." McDaniels to form a duo. Christened "Run-D.M.C," by Russell, who managed the pair, they soon added Jason "Jam-Master Jay" Mizell as their DJ. The credits on the group's debut single "It's Like That"/ "Sucker M.C.'s" read "Produced by Larry Smith & Russell Simmons."  It was released on Profile records in 1983. Over a simple Oberheim DMX drum pattern punctuated with a few horn stabs and a bass line, "It's Like That" was a piece of social commentary that spoke to the conditions of Ronald Reagan's urban America, as well as world problems. "It's Like That" was a hit record that received primetime FM radio airplay—which was still an impressive feat for a rap record in 1983. But it was "Sucker M.C.'s," and its bare DMX drum pattern, that ushered in a new rhyme cadence and single-handedly, kick-started the drum machine era and the new school, simultaneously. 
"Russell Simmons used to bring me demos often and one day he came by with a tape made in Larry's basement of 'Its Like That,'" says Profile Records co-founder Cory Robbins. "I liked it and I really liked the hook. I told him that I'd call him back the next day. I listened to it again several times that night and called him the next day and we made the deal." When asked about "Sucker M.C.'s" Robbins replies: "It didn't exist yet. We gave them seven hundred dollars to go into a studio to cut 'It's Like That.' 'Sucker M.C.'s' was just a bonus beat on the demo that Larry called 'Krush Groove.' I suggested that we make it a real song and give it a title and put in on the single with 'It's Like That.' We titled it 'Sucker M.C.'s' and put 'Krush Groove 1' in parenthesis."
Over the years, "Krush Grooves" 2 through 4 would follow; officially titled "Hollis Crew," "Darryl & Joe," and "Together Forever," respectively.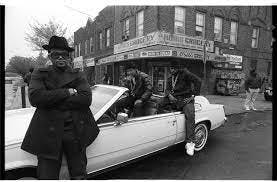 "Sucker M.C.'s" certainly wasn't the first rap record to use a drum machine, but it was the first time since Spoonie Gee's 1980 hit "Love Rap" that a rap record contained drums as the sole instrument, and the "Love Rap" drums were actual drums played by Pumpkin. For "Sucker M.C.'s," Larry Smith replayed Trevor Gale's drum pattern from "Action" on his DMX drum machine and created a rap record that many people can still recall where they were the first time that they heard it. Doug E. Fresh said the moment that he heard it, he knew that things would never be the same; that a new era had arrived. You could feel and hear the baton being passed.
The names dropped on the song itself and the credits on "Sucker M.C.'s" are like a short history lesson on Hollis, Queens Hip-Hop and Russell "Rush" Simmons' circle of artists and musicians: "Mixed by Kurtis Blow and produced for Rush Groove Productions." Kurtis Blow explained that Rush Groove productions was a three-way partnership between Russell Simmons, Kurtis Blow and Larry Smith.
"The 'K' in 'Krush Groove' stood for Kurtis, and 'Rush' was Russell's nickname. We combined our names to spell 'Krush.'" In Run's now-legendary "two years ago..." first verse of "Sucker M.C.'s," he stated that "Larry put me inside his Cadillac." Larry Smith and that same Cadillac are shown at the beginning of the video for Run-D.M.C's later single "Rock Box." When Run states that "Dave cut the record down to the bone," he is speaking of Orange Krush's guitar and bass player Davy DMX.
"I could have been Run-D.M.C's permanent D.J." Davy explained. "I did gigs with them before Jam-Master Jay became their DJ, but I didn't want to be behind someone else. I'd been Kurtis Blows DJ previously and I needed to do my own thing."