The late 1980s/early 1990s are an interesting time in popular culture, particularly in movies. After the monster successes of generation-defining franchises like Star Wars and Indiana Jones, the blockbuster approach was running rampant in Hollywood; but the mainstream movie industry hadn't yet gotten fully corporatized and homogenous. There were still some studios willing to take a chance on making very expensive, very odd movies. Oddball Tim Burton movies like Beetlejuice and Edward Scissorhands were major successes; but they weren't the only big, strange films getting made. And there wasn't a bigger, stranger movie than 1991s bizarro comedy Nothing But Trouble.
Developed as a horror-comedy by Dan and Peter Aykroyd, the story was inspired by an incident where Peter was pulled over in upstate New York and had to go before a justice-of-the-peace in a podunk town. Around that episode, the Aykroyd brothers crafted one strange movie. ...Trouble is the story of a snooty Manhattan publisher (Chevy Chase) and a lawyer (Demi Moore) that he's got his eye on; who get ticketed for speeding while driving through Valkenvania, New York, with a fashionable Brazilian brother and sister (Bertila Damas and the late Taylor Negron.) The Valkenvania courthouse they're taken to is a cross between an Eastern European stronghold and something out of The Texas Chainsaw Massacre; and things only get weirder, as Dan Aykroyd does double duty as grotesquely ancient Judge Alvin Valkenheiser and one of two giant, greasy mutant babies, (named Bobo and Lil Debbull) and the legendary John Candy also plays two characters: as the judge's police officer son Dennis, and near-mute daughter, Eldona—who, incidentally, Chase is forced to marry.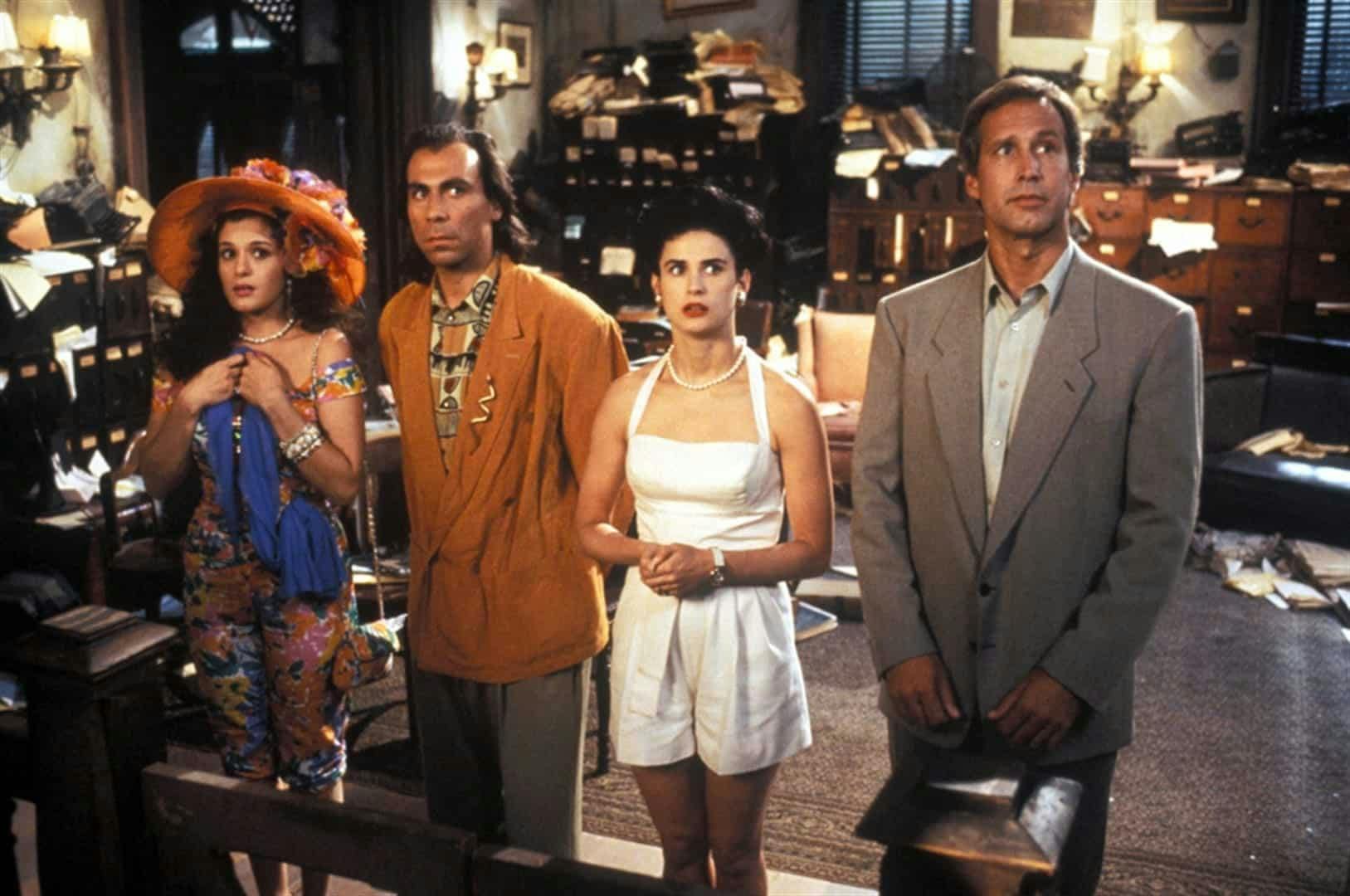 In the middle of all of that strangeness—once again, there is a pair of giant, greasy, diaper-wearing mutant babies in this movie—Digital Underground shows up. In the context of the movie, Shock G. and Co. are a group of musicians who, like our main stars, get pulled over in Valkenvania and find themselves going before Judge Valkenheiser. Unlike our protagonists, however, they can use their musical gifts to jam their way out of a jam.
Of course, in actuality, Digital Underground was enjoying tremendous success on the heels of their 1990 debut album Sex Packets, and their monster hit single, "The Humpty Dance." Aykroyd always had a fondness for including Black music in his films: The Blues Brothers is essentially an homage to 60s soul music; rock & roll legend Bo Diddley memorably cameoed as a pawnbroker in Trading Places; the Ghostbusters theme was written and sung by R&B/jazz star Ray Parker, Jr.; and it's sequel prominently featured a soundtrack stocked with Hip-Hop and R&B acts like Run-D.M.C., New Edition and, perhaps most notably, Bobby Brown. During an appearance on The Arsenio Hall Show to promote the movie, the former Saturday Night Live star shared his enthusiasm for D.U.'s appearance in the film.
"Digital Underground joined us, we commissioned a song with them," Aykroyd explained. "I wrote a scene in the movie where this 106-year-old justice of the peace that I play in the film runs across these musicians, they come into his compound…So, I wanted a talented group to commission and write a song for the film."