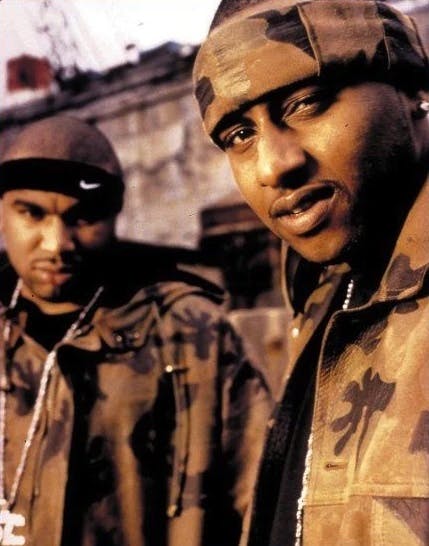 The East Coast/West Coast friction was being galvanized by media attention; as fans and commentators couldn't get enough of the ever-escalating drama. When California rap superstars Tha Dogg Pound and Snoop Doggy Dogg showed up in Red Hook, Brooklyn to film the music video for their single "NY, NY," shots were fired.
"We went up to the radio station to get at [Funkmaster] Flex," Snoop said in a 2018 interview with Rap Radar. "So we could let everybody in New York know that 'we brought our lowriders out, we're shooting a video, all the New York rappers, come fuck with us, nigga—we out here! Come be a part of this video. We get down wit' y'all.' But Flex froze us, like, 'Nah, y'all can't come up.'"
Snoop said that a phone call into the radio show from The Notorious B.I.G. caused things to escalate. When Biggie called Flex on the radio and said "Brooklyn, stand up!" Snoop interpreted it as a call to arms. Afterwards, shots were fired. And Snoop and Tha Dogg Pound responded by famously kicking down New York City skyscrapers in the song's video. "Ay, ay, ay—Biggie and them caused that," Snoop interrupts. "And that's all in the art of war. And because we didn't try to fuck him up—because we had so much love for him. Me and my team, we loved Biggie. So we took it on the chin, like, 'Fuck.' We didn't even say nothin'. Like, nigga, this my first time ever sayin' somethin'. We acted like it didn't happen. But the homies were hot. Death Row was hot."
C-N-N and Mobb Deep linked to respond to the perceived disrespect from the West Coast rap stars. Over beat from legendary Queensbridge producer Marley Marl, the two groups and Tragedy unload on SoCal, albeit without explicit venom for the Left Coast. Even as they were recording "L.A., L.A.," everyone involved was unsure if Tha Dogg Pound song was a proper diss or no.
"That's why if you really listen to 'L.A., L.A.,' the concept is dissing them but the actual song has no disses at all," N.O.R.E. would explain years later. "The thing was, as we was listening to 'New York, New York,' we couldn't find no disses from them either. So we just figured we'll respond the same way they attacked us."
Once the song was done, Profile Records demanded they removed Prodigy's verse. Prodigy had taken a much more direct tone with his lyrics, and the label was worried about the controversy.
"He was the only person indicating a diss," N.O.R.E. shared. "So his label took him off the record. And the final verdict of that was the only person Tupac actually dissed was Prodigy, the person who took the verse off the record. I always thought that was ironic as hell."