1979
Sugar Hill Gang "Rappers Delight"
The Sugar Hill Gang's 'Rapper's Delight" served as the "Big Bang" for the rap industry. R&B artists and DJ's had talked in rhyme on records before, but they weren't doing it over breaks and they weren't MC's. The Gang's Wonder Mike And Master Gee were members of Englewood New Jersey's Sound On Sound and Phase II crews respectively. Big Bank Hank a former bouncer and pizza maker borrowed rhymes from Grandmaster Caz of the Cold Crush Brothers as well as DJ Hollywood and Eddie Cheeba. Although The Fatback Band released "King Tim III (Personality Jock)" a few months before, "King Tim III" was a funk song, by a funk band that featured King Tim (who was an actual MC) sharing his rapped vocals with The Fatback Band's sung vocals. "Rapper's Delight" was the first record released on Sylvia Robinson's Sugar Hill Records, the label which would monopolize recorded rap until the mid-1980s. Not only did "Rapper's Delight" introduce the artform of rap to those outside of New York's boroughs, it was the first commercially successful rap record, selling 20,000 copies a day at one point. The combination of this new talking style of music with the back drop of the summer's biggest song "Good Times" by Chic helped "Rapper's Delight" outshine the other two dozen independent rap records released in 1979.—Jay Quan
1980
Kurtis Blow "The Breaks"
Kurtis Blow is revered as rap music's first solo superstar. He is the first rap artist to sign to a major label, (Mercury/Polygram), and he released Hip-Hop's first holiday hit, 1979's "Christmas Rappin.'" Blow's follow up single "The Breaks" was a chart-topping urban anthem in the summer of 1980, receiving prime time radio airplay as well as blasting out of every car, portable radio and house party that year. "The Breaks" led to Kurtis becoming the opening act for such iconic artists as Lionel Richie and The Commodores and the legendary Bob Marley. Blow also performed the classic on Soul Train the Saturday morning music program that was considered the pinnacle for urban artists. Blow was the first rap artist to make an appearance of the program. "The Breaks" peaked at #87 on the Billboard Hot 100.—Jay Quan
1981
Grandmaster Flash "The Adventures of Grandmaster Flash on The Wheels of Steel"
In 1981, Sugar Hill Records' domination of rap music was still very much in effect and "The Adventures of Grandmaster Flash on The Wheels of Steel" was the most unique and innovative record of 1981. It marked the first time that we actually heard "scratch mixing" on a record. Flash's theories like phasing, the quick mix theory and the clock theories are all demonstrated on this single. Sugar Hill Records founder and CEO Sylvia Robinson was instrumental in greenlighting the project, Grandmaster Flash told The Foundation. "Sylvia encouraged it," he said. "I approached her many times about it. I would just drop it in her ear: 'Sylvia can I make a cut record?' After a while we were coming off tour and she flew me and Melle Mel in and said 'Let's do this record.'" "Adventures on The Wheels of Steel" was the first time that most people outside of New York's boroughs heard scratching, creating a generation of aspiring DJs and further turning the turntable into an instrument. —Jay Quan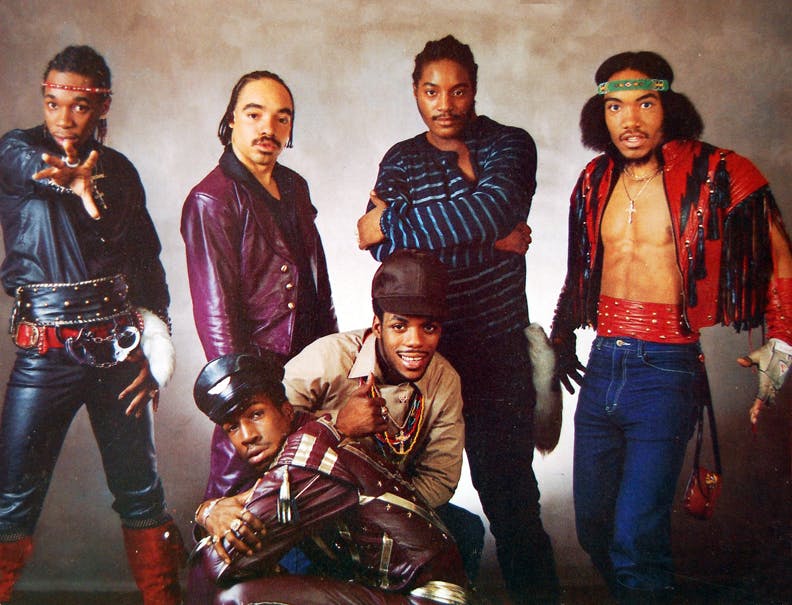 1982
Grandmaster Flash & The Furious 5 "The Message" (Tie)
"The Message " is essentially a seven minute dissertation on Reaganomics and its effects on urban America. Written by Sugar Hill house band percussionist Ed Fletcher aka Duke Bootee as a song for himself, "The Message" is regarded as the first rap song to inject social commentary into the relatively new genre. "'The Message' is a Reagan record," said Newseek's Greil Marcus in 1982. "It has to do with the perception that all pretenses toward equity have been abandoned." Grandmaster Melle Mel's "A child is born" verse from 1979's "Superrappin'" was recycled and added to the end of "The Message" and served as what Sylvia Robinson called "the icing on the cake." The song which only featured Fletcher and Melle Mel would eventually lead to the breakup of the most decorated first generation rap group. "I don't think that 'The Message' broke the group up," Grandmaster Melle Mel told The Foundation."It planted the seed that built a certain amount of animosity that destroyed our working relationship and the creative continuity that we had."—Jay Quan
Afrika Bambaataa & The Soul Sonic Force "Planet Rock" (Tie)
"Planet Rock" is an extremely unorthodox song in several ways. The vocal performance was a combination of harmonizing and speaking, with a cadence that no rap song before it contained. The tempo was faster than most rap songs and it was one of the earliest in rap's first era of recordings to use a drum machine (the Roland TR 808) opposed to a full band. Arthur Baker and John Robie's production was based on German quartet Kraftwerk's "Trans Europe Express" and Captain Sky's "Super Sporm" both of which had become popular breakbeats in Hip-Hop. To add to the spacey and futuristic tone of the song Jay Burnett's vocoder -like refrain of "Rock rock to the Planet Rock don't stop" helped create an anthem for 1982. MC's G.L.O.B.E., Mr. Biggs and Pow Wow and their invitation to a place "Where the nights are hot and nature's children dance and say the chants of this mother Earth" helped to set off a new subgenre of Hip-Hop called Electro Funk. "Planet Rock" forever changed the landscape of rap music and placed a little known independent label known as Tommy Boy on the map.
1983
Run-DMC "Sucker MC's"
"Sucker MC's" was the world's introduction to Run-D.M.C. It was the shot heard 'round the world and it single handedly represented the end of one era and the beginning of another. The importance of the song which was paired with the more popular and commercially accessible "It's Like That", cannot be overstated. "It was time for something new," Grandmaster Caz of The Cold Crush Brothers told The Foundation. "The genre would have likely died if not for Run-D.M.C.," he added. Not only did "Sucker MC's" present a new cadence courtesy of both Run and DMC, it was the first time outside of Spoonie G's 1980 hit "Love Rap" that a rap record was released containing only drums. The songs producer Larry Smith spent a considerable amount of time at legendary Hip-Hop club The Disco Fever where he witnessed the genre's best and brightest. He was a musician who understood how Hip-Hop DJ's operated, and when he created the drum track for "Sucker MC's" he was actually emulating the drum pattern from his own band Orange Krush's hit record "Action". He was attempting to emulate what he saw and heard in the parks and Hip-Hop clubs. "Sucker MC's" represents one of Hip-Hop's first paradigm shifts. —Jay Quan
1984
Tla Rock And DJ Jazzy Jay "It's Yours" (tie)
"It's Yours" was the record that made every MC want to buy a thesaurus to employ better vocabulary and wordplay. "Commentating, illustrating/ description giving /adjective expert/analyzing surmising/musical myth seeking/people of the universe this is yours" the song boldly starts. T la Rock's brother and the songs co writer Special K of The Treacherous Three was always an abstract writer and it was evident to a select few that "It's Yours" had his fingerprints on it. In the trailer for a new Special K documentary K responds to those who said that "It's Yours" didn't always rhyme. "It doesn't have to rhyme, it's poetry", he retorts. It's Yours was a game changer musically as well. Jazzy Jay's literal wall of scratching was a perfect fit for Rick Rubin's 808 heavy production. "The studio engineers kept warning me that the bass was approaching the level where the record wouldn't be playable" Rick told Rolling Stone.—Jay Quan
Whodini "Friends" (tie)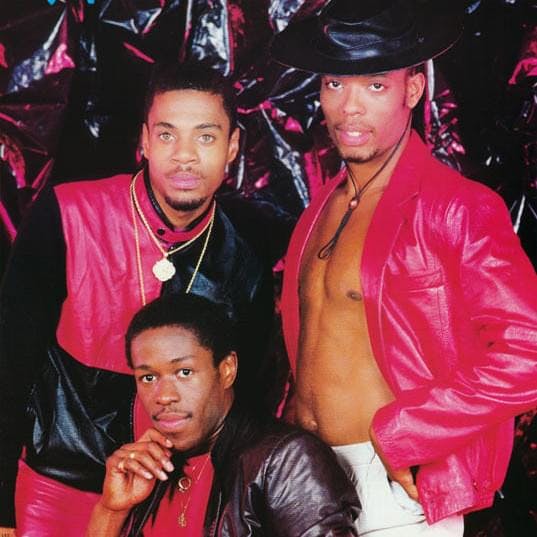 "Friends" was Whodini's breakout hit, although they released a self-titled album in 1983 that contained production from Thomas Dolby and The Thompson Twins. "Friends" was the first single from Escape, which was their first album produced by the late Larry Smith. Released in a period where rap producers embraced the "stripped down" sound, there was a heavy emphasis on drum machines and scratching, "Friends" contained synthesizers, pianos and bass. This full sound combined with the subject matter, (a lesson of friendship), would establish Whodini as a more sophisticated act than their contemporaries. Group member Jalil wrote the song, and he described to The Foundation how "Friends" came about. "I was humming 'Friends' and I told Larry how I wanted the drums and bassline to go," he explained. "It was very primitive and everyone laughed at first. Larry said that he would need to use two different kick drums to reproduce what I was hearing in my head. I told him to do whatever it takes, and he used 2 two different kick drums." "Friends" has been sampled and remade several times over the years—a testament to the enduring quality of the original work. —Jay Quan
1985
LL COOL J "Rock The Bells" (tie)
1985 was a transitional period for rap records. It was the last portion of the drum machine era and the eve of the sampling era which is often referred to as rap's "Golden Era." Run-D.M.C.'s sophomore album King of Rock was released in '85, along with Doug E. Fresh & The Get Fresh Crew's gargantuan single "The Show"/"La Di Da Di." Reverberations were still being felt from The Fat Boys debut album, which dropped the previous year. But 1985 also marked the debut album from LL COOL J, who delivered a performance in the motion picture Krush Groove which was the most talked about part of the film. Anticipation was high for Radio, which didn't disappoint with its high energy single "Rock The Bells." The song, which would have sampled Bob James' iconic "Take Me to Mardi Gras" breakbeat, instead sampled Trouble Funk's "4th Gear" and features one of Uncle L's most dynamic vocal performances. "Rock The Bells" has become an instrument for DJ's to create scratch routines to, a signature song for LL and the name of an entertainment empire which includes a classic Hip-Hop radio station, website and clothing line. There is even a Rock the Bells Hip-Hop cruise happening in 2023.—Jay Quan
Doug E. Fresh & The Get Fresh Crew "The Show" (tie)
It was impossible to pay a visit to any urban neighborhood in 1985 and not hear "The Show" or its b-side "La Di Da Di" blasting from a car or portable radio. The song was put together like a sonic "greatest show on earth," and featured the man who had been calling himself "The Original Human Beatbox" on records for the better part of a year, and who we caught a glimpse of performing his human percussion on Beat Street with the Treacherous 3. The incredible tandem scratching of DJs Chill Will and Barry B combined with the British accented comical delivery of MC Ricky D made for the summer's most popular song landing the quartet on Soul Train in America and its UK equivalent Top of The Pops. Although Rick and Doug would separate after "The Show"/"La Di Da Di," each had an incredible solo career, and they have reunited on recordings and live performances throughout the years.—Jay Quan
1986
Eric B & Rakim "Eric B Is President"
"The God MC," with the monotone voice and otherworldly wordplay, planted his flag in '86 and singlehandedly declared a new era. Rakim proudly stated that there were "No tricks in '86/It's time to build" on his debut single "Eric B. Is President." The song became an instant hit and the "whop" (popular 1980s dance) anthem of the year. Musically based on Fonda Rae's "Over Like a Fat Rat," "Eric B Is President" was produced by Marley Marl, mixed by MC Shan and released on Zakia records, the same label that released Roxanne, Roxanne answer records only a year before. Lyrically Rakim introduced a new cadence that is still in use today, and one of the most copied in the genre. Eric B Is President represents yet another paradigm shift in rap music and the arrival of one of the most revered, influential and celebrated MC's in the game.—Jay Quan
1987
Public Enemy "Rebel Without A Pause"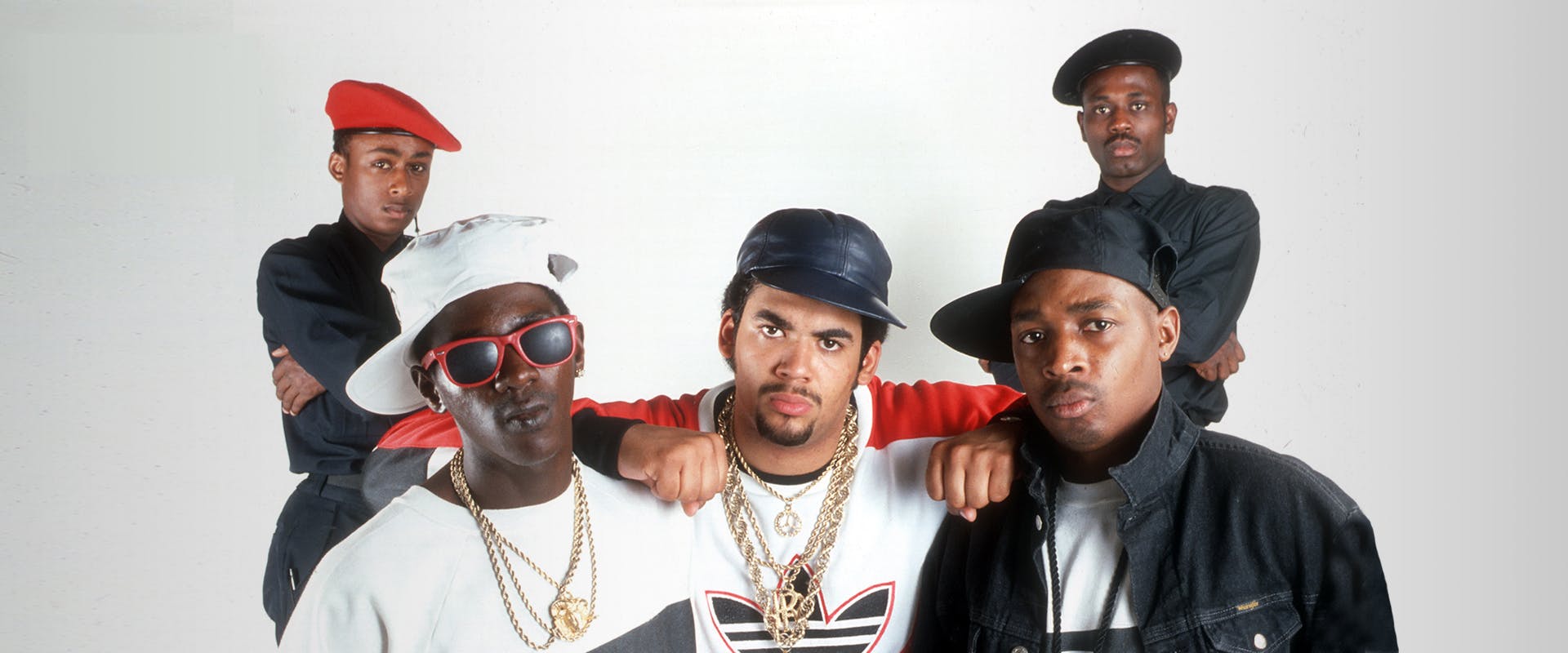 Public Enemy's "Rebel Without A Pause" was created and released as a single between their debut album Yo! Bumrush The Show and their iconic and game-changing sophomore album It Takes A Nation of Millions To Hold Us Back. Public Enemy frontman Chuck D explained to ROCK THE BELLS that they were displeased with their debut album, and that "Rebel Without A Pause" was one of their most important recordings. "'Rebel...' was our first hit record", he said. "The energy, response and momentum from 'Rebel Without A Pause' transferred directly into It Takes A Nation of Millions. We went into making that record like it was a military mission", he added. "Me and Eric Sadler (a member of the Bomb Squad production team) heard 'I Know You Got Soul' by Eric B. & Rakim and we said that it was inconceivable that a song could be that good." The combination of the Fred Wesley horn loop and Clyde Stubblefield's iconic drum pattern gave Chuck a perfect soundbed to show his ass lyrically. "Hard/my callin' card/supported and ordered/a follower of Chesimard". "Rebel Without A Pause" remains of of Hip-Hop's most energetic singles.—Jay Quan
1988
Marley Marl featuring Masta Ace, Craig G, Kool G. Rap And Big Daddy Kane "The Symphony"
1988 is widely recognized as rap's best year for classic albums. Across coastal, gender and stylistic lines 1988 was an incredibly prolific year for full length rap albums. There are so many possible choices for the best song of 1988, there are literally dozens. We are choosing "The Symphony," not only because it's a dope song, but because of what it represents for '88 and beyond. It introduced one of Hip-Hop's most consistent MCs in Masta Ace. It reestablished Craig G., a Juice Crew mainstay. It solidified Kool G. Rap as one of the game's best, it gave us one more reason to respect Kane's pen and it crowned Marley Marl the best producer of that period. "The Symphony," although not the first posse cut in Hip-Hop, it is definitely the template by which modern day posse cuts are measured. Each MC featured on "The Symphony" would have a career defining album in two years or less. This was an extremely difficult one, but The Juice Crew takes home the crown.—Jay Quan
1989
The D.O.C. "It's Funky Enough"
The Texas-born, California-produced D.O.C. made his debut under that name in '89 and broke through coastal barriers along with his NWA cohorts and producer Dr. Dre. He was by no means a stranger to the industry having been a member of The Fila Fresh Crew and a writer for Eazy E, but it was "Funky Enough" that established him as a force to reckon with. Over a Foster Sylvers inspired track D.O.C. spits fire with a Jamaican accent and immediately grabs Hip-Hop's attention. His NWA assisted video came just in time for the newly developed Yo! MTV Rap's and introduces him to an even wider audience. "Funky Enough" was the lead single from his critically acclaimed debut album No One Can Do It Better which is widely revered as one of Hip-Hop's best. "Funky Enough" and No One Can Do It Better are still in conversations three decades later with fans holding on to hope that there will be another D.O.C. release.—Jay Quan